Critical Wit #38 – What Can Sherlock Holmes Teach Us About Thinking?
[ 23:26 ]
Play Now
|
Play in Popup
|
Download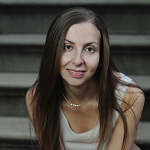 Maria Konnikova is a writer, doctoral candidate, and blogger at Scientific American.  She has recently finished a series called "Lessons of Sherlock Holmes" – a chronicle that explores how examples from the fictional detective stories can help provide insight into not only how humans think, but also, how we should think.  You can subscribe to Maria's SciAm blog, called 'Literally Psyched', and bookmark her website: mariakonnikova.com.  And you can follow her on Twitter @mkonnikova.
If you enjoy this podcast, please consider 'liking' the Critical Wit page on Facebook and/or give it a rating in iTunes. You can also follow Critical Wit on Twitter @TheCriticalWit.  Thanks!