Critical Wit #30 – From The Cutting Room Floor 3
[ 21:07 ]
Play Now
|
Play in Popup
|
Download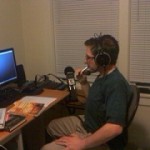 In the second of this special two-part episode, I provide some more audio clips of interviews from the previous ten episodes.  Clips like whether "transgenic" is the same as "genetically engineered", the similarities between Alfred Wegner and Charles Darwin, and comparing the United States to the rest of the world as it relates to capital punishment.  And also, for fun, I include a few bloopers, like when I ironically mess up an episode intro, and when – during my note-taking – I forget I'm in the middle of an interview.
If you're interested in checking out Ira Moore's music for your multimedia project, you can visit his website at http://iraemoore.weebly.com
If you enjoy this podcast, please consider 'liking' the Critical Wit page on Facebook and/or give it a rating in iTunes.  You can also follow the podcast on Twitter; @TheCriticalWit.  Thanks!