Critical Wit #35 – Literature Reviews with MittenLit (Bill Castanier) II
[ 30:25 ]
Play Now
|
Play in Popup
|
Download
Bill C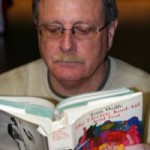 astanier from MittenLit.com returns to Critical Wit to give us some suggestions on books to pick up as either gift ideas or to read during the holidays.  We start with three books about Ernest Hemingway; "The Paris Wife" by Paula McClain; "Hemingway's Boat: Everything He Loved In Life & Lost 1934-1961" by Paul Hendrickson; and "The Letters of Ernest Hemingway: Volume 1, 1907-1922" edited by Sandra Spanier and  Robert W. Trogdon.  We then move on to some works of fiction; such as "The Art of Fielding" by Chad Harbach; "The Marriage Plot" by Jeffrey Eugenidas; and "Laughing Whitefish" by Robert Traver – a book that was out of print for 50 years before being re-issued.  And we briefly touch upon three books that are worth checking out; "Salvage The Bones" by Jesmyn Ward, "The Night Circus" by Erin Morgenstern, and "Malcolm X: The Life of Reinvention" by Manning Marable.
You can read and subscribe to MittenLit.com to keep track of literature news regarding Michigan authors. And you can also get news by following Bill on Twitter @MittenLit1.
If you enjoy this podcast, please consider 'liking' the Critical Wit page on Facebook and/or give it a rating in iTunes. You can also follow Critical Wit on Twitter @TheCriticalWit.  Thanks!