Critical Wit #50 – In The Studio With Sheridan Tongue
[ 21:41 ]
Play Now
|
Play in Popup
|
Download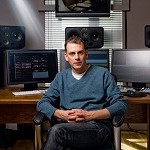 Sheridan Tongue is a film music and television programmer in England.  In this episode, we discuss the process of writing compositions for film and television, his work on the popular science series 'Wonders of the Universe with Brian Cox' and 'Into the Universe with Stephen Hawking.'  You can find out more about Sheridan's work by visiting his website http://www.sheridantongue.com/ and you can follow him on twitter @SheridanTongue.  You can also purchase the 'Wonders' soundtrack, as well as other songs, of Sheridan's at your local music stores, online, and in iTunes.
I want to give thanks to Patrick McComb for assistance provided in preparation for the interview.
If you enjoy this podcast, please consider 'liking' the Critical Wit page on Facebook and/or give it a rating in iTunes. You can also follow Critical Wit on Twitter @TheCriticalWit.  Thanks!